Orthodox Judaism has never been exposed to such scrutiny. From a Melbourne courtroom, the torment of the Chabad rabbis was streamed live to the world as the royal commission into institutional responses to child sexual abuse probed the city's secretive and powerful Yeshivah community.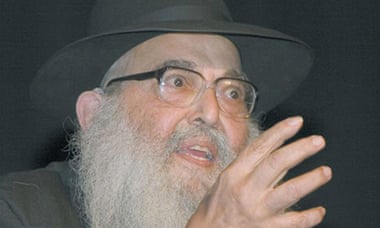 Sharp divisions in the Jewish world have been exposed. Two rabbis, including one of the nation's most prominent, have been forced from their posts. Whistleblowers, humiliated and ostracised for years by Yeshivah, have been dramatically vindicated. More victims have come forward. More criminal charges may follow. Yeshivah schools face a nightmare of civil litigation.
The cast is Jewish, yet the bones of this story are familiar to anyone who has followed the scandal of child abuse in Christian schools and parishes. Rabbis and bishops have shown over the years much the same failings when faced with a choice between guarding the prestige of their faiths and the safety of children. This story is about the dangers in any cult of blind obedience to holy men.
Rabbi Yitzchok Groner died just in time. He was a dominating figure in Melbourne's Jewish world, a mountain of a man with inexhaustible energy, deep religious learning and a stare that stopped grown men in their tracks.
Yeshivah is ultra Orthodox: fundamentalist, intellectual and charismatic. God created the world in six days. Families are big. Sex is never discussed. Modesty is everything. Men and women mark their days with prayer and ritual. Instead of dying in the face of the modern world, old-fashioned, rule-bound Chabad-Lubavitch Judaism flourished.
Groner died in the winter of 2008, but his power didn't die with him. To question his authority – indeed his saintliness – after his death, was considered a particularly grave sin among the Chabad. Protecting his memory were the rabbis he had trained and sent out into the wider Jewish world, and the interlocking mesh of Chabad families that seemed to make everyone at Yeshivah the son-in-law, nephew or sister of everyone else.
A couple of months after Groner's death, news broke that David Kramer had been sentenced to seven years in prison in St Louis, Missouri, for molesting children at a youth camp where he was supposed to be teaching "Hot topics for Jewish teens". The story died in Australia for the time being, but from this point, a number of Chabad leaders, teachers and parents knew an appalling scandal threatened Yeshivah.
Kramer had taught at the Yeshivah primary school in late 1989. The young American rabbi was immediately popular and immediately began molesting children. The number of his victims is not known, perhaps dozens, including two of the sons of Zephaniah Waks.
Waks was a most unwise man to cross. The Waks name is all through this story. Tenacity runs in the family. Half measures aren't in their DNA. Their sense of right and wrong is strong and personal. As the father of 17 children, Zephaniah Waks had more than proved his dedication to Chabad. But in the end those children would mean more to him than any obligations to the sect.
Waks discovered the abuse in 1992. He says he complained to the principal of the Yeshivah school, Rabbi Abraham Glick. Within hours, Waks learned that Kramer had admitted the abuse. When he wasn't fired, Waks says, he confronted Glick again, only to be told: "There is a danger of self-harm. So we can't fire him."
Glick doesn't deny learning about Kramer at this point, but can't recall discussing the teacher's fate with Waks. He told the royal commission: "I think he had that conversation or a similar conversation most probably with someone else."
source