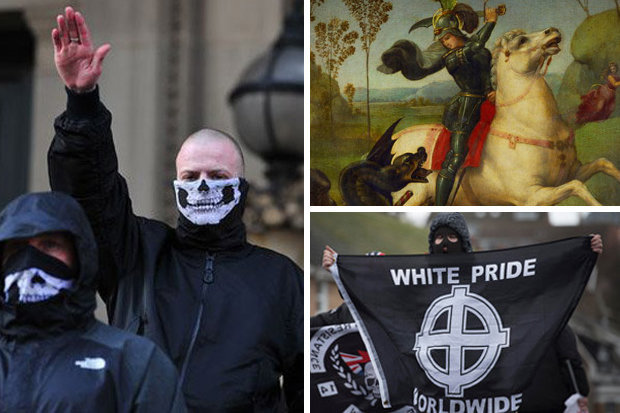 Clans are plotting provocative meetings to mark England's national day.
Kent Police are on high alert ahead of a meeting of anti-immigration movement the Pie and Mash Squad today.
A counter demonstration by Kent Anti Racism Network is also planned, stoking fears of a clash.
The North West Infidels, behind chaotic scenes in Liverpool in February, could be set to join the Pie and Mash Squad, according to a Facebook post.
March for England has blighted Brighton on April 23 in recent years, prompting Sussex Police to step up patrols this year in case of a repeat.
St George's Day is not typically celebrated as enthusiastically as St Patrick's Day is by the Irish – as well as Brits – with some fearing a Far Right attachment to the date has had an effect.
The Royal British Legion branded the Pie and Mash Squad's plans for Dover as "disgusting" and branded them "thugs".
Stop the March for England are planning a celebration to mark the absence of the Far Right, although police remain alert to possible flash points.
The Pie and Mash Squad, meeting in a Dover pub at midday, has issued a threatening warning to journalists hoping to infiltrate them.
The group, which loves "pie and mash and Britain the way it used to be", operates under the slogan "we go where we want".
But it regularly posts xenophobic messages on its Facebook page.
On Friday, it featured a picture of a man purportedly a Welsh left-winger, alongside the threat to throw him "into the sea at Dover".
It also featured a picture of some men outside London's Muslim Centre captioned: "Right-wing resistance."
In a threatening recent post, reporters are told they will "end up wishing they had not bothered" trying to attend the group's pub meeting place today.
The Pie and Mash Squad told the Dover Express it had intended to march through Dover but cancelled that plan in view of a veteran's march being arranged for the same time.
In response to the counter-protest, the Pie and Mash Squad said: "Been told that the 'pie festival' thing in Market Square is a way of getting a mob into town and they are planning to hilariously throw pies at us.
"Epic. Our venue is far enough from them they wont be bothering us. 5w We go where we want."
source the telegraph.
PS: The dragon nowadays is leftist, anti-White, anti-patriotic ideology...