Protesters have staged a "die-in" at St Pancras station in London over plans to clear an area of the makeshift migrant camp in Calais known as the Jungle.
Dozens of demonstrators gathered at the Eurostar terminal at noon on Saturday for an emergency protest organised by the London2Calais Convoy, which organises convoys of essential supplies from London to refugees in the French port.
Pictures posted on social media showed police blocking the entrance to the station as protesters attempted to enter. In videos, they could be heard chanting "Not just for the rich and white, freedom of movement is a right," as well as "Say it loud and say it clear, refugees are welcome here".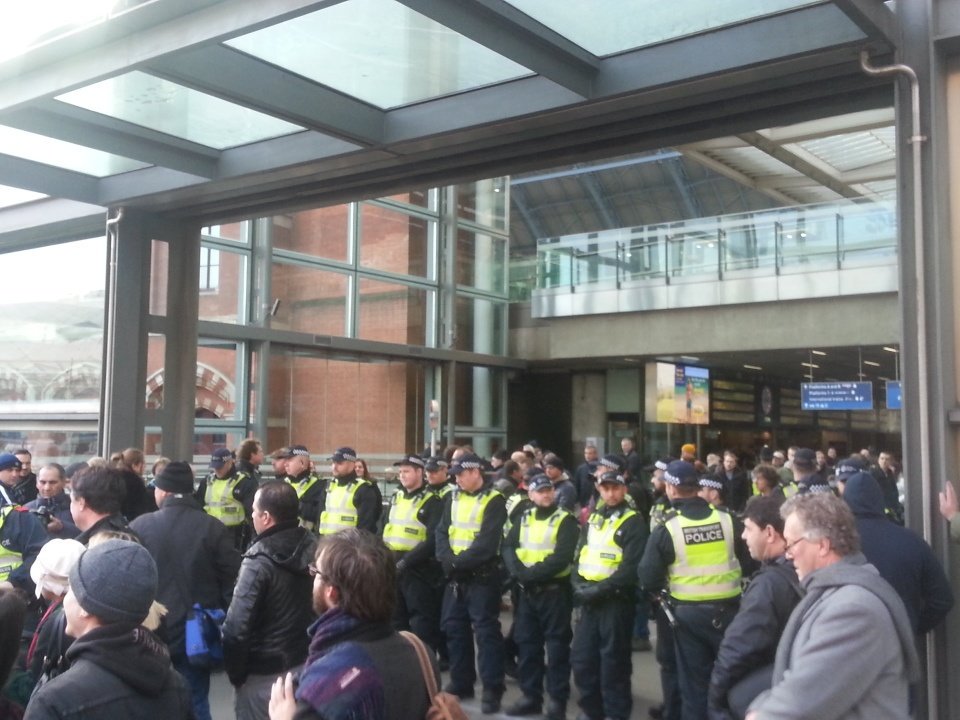 "Just saw a pro-refugee protester being physically dragged into a police van at St Pancras station," one Twitter user said, but British transport police
told the Evening Standard
no disorder had been reported.
On Friday, migrants living in the Jungle said they would resist efforts to move to new accommodation in converted shipping containers and insisted they wanted to stay in their tents, despite poor living conditions.
Efforts are under way to clear an area of the camp next to a motorway leading to the port, where there have been clashes with police.
A statement posted on
London2Calais's event page
on Facebook, which had nearly 400 people down to attend on Saturday, said: "The French state is preparing to bulldoze large sections of the so-called 'Jungle' refugee camp in Calais.
"Around 2,000 people have been given three days notice of the planned eviction, coerced into applying for asylum in France without providing a real alternative for them to live.
"Many of the people living in the Calais 'Jungle', including unaccompanied minors, have close family in the UK. As activists in Britain, we believe that while the 'Jungle' is a symptom of the crisis in Calais and Dunkirk, the root cause is British migration and foreign policy."
The group added that the UK government's refusal to take in more refugees was unacceptable. "We refuse to accept that there is money to bail out banks and bombing Syria but that there is no money left to help refugees."