Athens — A judicial panel in Greece ruled Wednesday that the leader and lawmakers from the extreme right Golden Dawn party will stand trial on charges of participating in a criminal group — an offense that carries a 20-year prison sentence.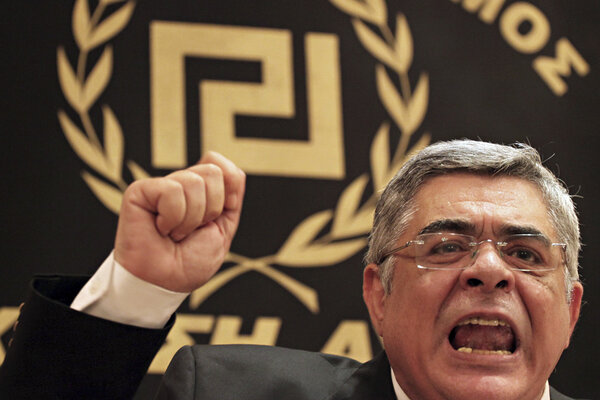 The panel voted that all 18 Golden Dawn lawmakers who held seats in Greece's previous parliament will stand trial, along with 52 other defendants.
No trial date was set.
Golden Dawn, originally founded as a neo-Nazi party, came third in parliamentary elections last month.
Thirteen lawmakers of the 18 standing trial were re-elected in the Jan. 25 polls and were due to be sworn in Thursday when the new 300-member parliament holds its opening session. Six of those, including party leader Nikos Michaloliakos, are in pre-trial detention, but are expected to participate as planned in the ceremony after being escorted to parliament and back to prison by police.
A crackdown against the party was launched in September 2013, following the murder of Greek rap singer Pavlos Fyssas, allegedly by a Golden Dawn volunteer.
Golden Dawn says it has no involvement in any violent activities and rejects the charges. It argues that its senior members are victims of political conspiracy aimed at stemming their surge in popularity during Greece's major financial crisis.
The members were ordered to stand trial after the investigation found "evidence to support the offenses of membership of a criminal organization and aggravated unlawful possession of weapons," according to a copy of the indictment seen by the Associated Press.
Prosecutor Isidoros Doyiakos, who headed the investigation into Golden Dawn's activities, said the organization aimed "to propagate and impose its political beliefs and theories through violence."
Doyiakos said Golden Dawn's organized assault squads "armed with bats iron bars, brass knuckles, and knives" to carry out streets attacks against immigrants and left-wing activists.
The findings were based largely on testimony from a protected witnesses and material from computer hard drives seized in multiple police raids.
source CNN