A lesbian and gay choir staged a mass singalong on Manchester's tram network after homophobic thugs attacked two young gay men who were singing songs from the musical Wicked on a night out.
The event – entitled Safe to Sing – started with about 80 singers boarding trams in the city centre on Monday evening to belt out tunes including Somewhere, from West Side Story, and Petula Clark's Downtown – with the main refrain changed to "Canal Street", the heart of Manchester's gay village.
Volunteers gave out rainbow coloured cupcakes to bemused passengers from a box marked "Cake Not Hate" as the driver explained over the PA what was going on.
Manchester Lesbian & Gay Chorus (MLGC) then got off at Piccadilly Gardens, where 25-year-old Jean-Claude Manseau, known as Jo, and Jake Heaton, 19, were beaten by a gang of men two weeks ago.
The choir were joined by their counterparts from the Hallé ensemble, as well as Manchester Community choir, Blackburn People's choir, the Manchester Bach choir and other groups from the north west.
Against the backdrop of the illuminated ferris wheel, several hundred people filled the square with song, ending with a full-blooded rendition of Defying Gravity, Wicked's theme song.
Manseau and Heaton were on their way to Canal Street when they were attacked in the early hours of 1 November. They said the incident began on a tram when they were "having a laugh" singing songs from Wicked, prompting homophobic taunts from another man on board.
When the pair got off the tram at Piccadilly Gardens, the abuse continued. They claim they were then set upon by a mob of 15 other men, who shouted homophobic abuse during the attack.
Manseau, a shop worker, was knocked unconscious and suffered black eyes, a split lip and broken nose. He cannot remember anything about the attack, which "destroyed every bit of confidence I have".

Neither victim felt up to attending Monday's event, but Jacqueline Nield, Jo's mother, was moved to tears. "To think that all these people have come out tonight for my son. It's just a pity the rest of the world isn't so kind."
She said Jo was still "in a bad way" but was really touched at the action.
The singers were warmly received by passengers on the trams. "It's quite a surprise, but I think it's great," said Martin Knagg, 18. Damian McHugh, who works for an HIV charity, said: "It's so important to show support. There's a lot of talk about the gay community and sometimes people think it's just about going out to party, but this is what it's about too. This is about sending out a clear message that homophobia is unacceptable in our city."
At Piccadilly Gardens, a nun with a beard and sunglasses declared the performance "fantabulosa". Jacqui Moff from the Sisters of Perpetual Indulgence, a worldwide order formed around 1979 in response to attacks on homosexuals by fundamentalist religious organisations, said: "It is very important to fight back in a positive and enthusiastic way when something horrible happens rather than hiding away."
Moff said she had been the victim of homophobic abuse on a number of occasions in Manchester when "incognito" – ie out of her habit and in her civvies.
After the attack, Heaton told the Manchester Evening News (MEN) he was sure they had been targeted because they were gay. "It's completely shocking. Nowadays you think people are mostly accepting of people's sexuality, especially in a big city like Manchester. We did nothing to provoke it. We were just having a laugh and a sing on the tram," he said.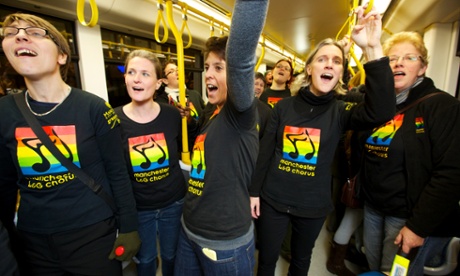 "It was definitely homophobic. Throughout it all they were hurling abuse at us. I don't feel safe now. You feel like you can't be who you actually are when there are people like this walking the streets."
Manseau told the paper: "It has destroyed every bit of confidence I have. It will be a while before I go anywhere on my own. I don't know when I'll feel safe to go into Manchester again."
After news of the attack spread in the media, MLGC decided to respond by creating the Safe to Sing event.
With the support of Manchester city council, Transport for Greater Manchester and the tram operators, Metrolink, the choir sang on a few short tram journeys. The tracks were specially chosen to celebrate freedom and love as a community, according to Kath Fox, MLGC co-chair. She said the event was "a way for us to reach out to Jo and Jake and to assure them we will defend the right to safe passage on public transport for all people, especially those from the LGBT community".
Fox said: "Out of the ugliest circumstances, the most meaningful and powerful messages emerge and that is what we hope to achieve with Safe to Sing."
In a statement, the producers of Wicked said: "On behalf of the entire Wicked UK companies, our thoughts and best wishes go out to both Jean-Claude Manseau and Jake Heaton, as well as their families, and we wish them a speedy recovery from the senseless and violent attack that took place in Manchester.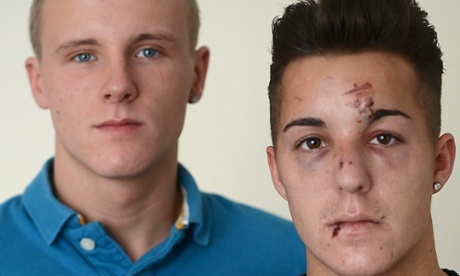 "Despite the giant leaps forward in attitudes toward, and tolerance of, homosexuality, we have all been profoundly shocked by the stark reminder that homophobia is still prevalent, and continues to claim its innocent victims."
Greater Manchester's police and crime commissioner, Tony Lloyd, said the singalong showed the "real face of Greater Manchester", in contrast to the "disgraceful" attack.
He said: "The Manchester Lesbian and Gay Chorus have organised a fantastic, positive response to an awful incident. I hope it will give the confidence to Jo and Jake – and the wider communities of our region – that when we say we will take a stand against hate crime, we mean it. This is about reclaiming our streets, reclaiming our public transport, reclaiming our city centre and showing that when we act together we are stronger than those who would seek to drive us apart."
Greater Manchester police (GMP) are treating the attack as a homophobic hate crime, said Inspector Phil Spurgeon. No arrests have yet been made, but officers continue to trawl through CCTV cameras which caught at least some of the attack.
The man on the tram was described as slim, white, in his early 20s, with very short hair and scruffy clothes. He was with a woman who is described as slim, with long dark hair, also in her 20s.
The group of men, who were already in Piccadilly Gardens, were described as black or mixed race.
Between April 2013 and March this year, 466 reports of hate crime motivated by sexual orientation were recorded by GMP.
The Lesbian & Gay Foundation's recent Community Safety Report suggests such crime is far more prevalent.
Half of the 35,000 gay, lesbian and bisexual people estimated to live in Manchester have experienced a homophobic or biphobic hate crime or incident, according to its report -, but 62% of them did not report it.


Source the guardian