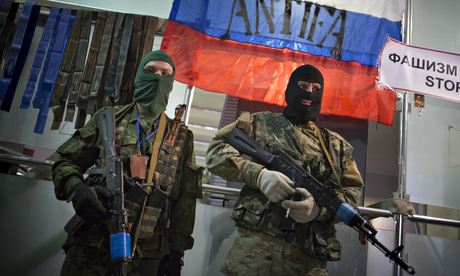 Sitting on a sofa in the seized security office in Luhansk, Sergei Gerachov admits his men have a large number of weapons. "We raided the armoury when we took this building over," he explains cheerfully. "Ordinary guys get Kalashnikovs. If you're a commander like me you get a pistol. We've plenty of grenades too."
In fact Gerachov, 48, a Soviet war veteran who spent three years fighting the mujahideen in Afghanistan, has two pistols strapped to his waist. Dressed in khaki fatigues, he wears a gold brooch decorated with the two-headed eagle of the Russian Federation.
Gerachov is one of a group of pro-Russian separatists who took over the building in the eastern city of Luhansk. It used to belong to
Ukraine
's SBU security service. The officers guarding it fled. That was more than two weeks ago. Since then Gerachov and his comrades have turned the building in the centre of Luhansk into a fortress. There are sandbags and razor-wire, and two young guards block the entrance with riot shields. One shield has the slogan "No to the US and EU".
The separatists have raised the Russian flag and managed to gouge out half of the blue and yellow Ukrainian trident adorning the upper storey. The gunmen have given themselves a name: the People's Army of the East.
In the green park opposite, meanwhile, a sprawling tent city has sprung up, inhabited by civilian volunteers. There is a shop selling icons and a red booth where you can watch Rossiya 24, the pro-Kremlin Russian TV channel. One sign says in English: "No to fashism" [sic]. A sound system pumps out patriotic songs. It looks and feels like an anti-western mini-Woodstock.
On Monday pro-Russian supporters from across the region met inside the separatists' HQ. The delegates picked a new "people's governor" of Luhansk – Valeriy Bolotsky, a former policeman from a nearby mining town. He was too busy on Tuesday to give interviews. According to Gerachov he spent the weekend in Moscow talking to officials before returning to Ukraine on Sunday night to take up his new role as the city's secessionist boss.
Russia
has vehemently denied involvement in the seemingly co-ordinated takeover of government buildings across the east of Ukraine this month. So what exactly was Bolotsky doing in Moscow? "He was probably taking instructions," Gerachov says. "Not from the spy agencies but at a political level," he suggested.
How long was the people's governor in Russia? "About 24 hours," he says. One of Gerachov's aides came in with a commando knife, and asks: "Someone walked in with this. Can we allow it?"
The decision to choose Bolotsky was taken behind closed doors. (One at the meeting reportedly said those there enjoyed support from two important people: Putin and Jesus.) The delegates agreed to stage two referendums to decide the region's future status. The first, on 11 May, will ask voters to decide whether Luhansk should keep its current status or become an autonomous entity. The second, on 18 May, will ask whether Luhansk should be independent or join the Russian Federation, like Crimea.
It's hard to say how these referendums will be meaningful democratic exercises. Roughly 1,500 people turned up to Monday's rally – in a city of 450,000. Luhansk's regional and city administrations continue to function as normal.
The separatists control only a single building in the
oblast
(region). In neighbouring Donetsk, by contrast, pro-Russian militias have grabbed at least a dozen offices. On Tuesday rebels in the town of Slavyansk took another journalist hostage, this time an American, Simon Ostrovsky.
The administration has held talks with the militia aimed at ending the occupation peacefully. So far it has had no success. In the meantime Luhansk's energetic police chief, Timur Yuldashev, has formed his own "Timur" battalion to fight against separatism. Yuldashev
told the local paper
that those with pro- and anti-Kiev views in fact wanted the same thing: to live in a successful state free of corruption, and Russia had artificially inflated the separatist problem.
Certainly, Luhansk's would-be rulers are a disorderly bunch. On Monday a rival pro-Russia group, the Young Guard, tried to seize the occupied security agency building from the People's Army of the East. "About 300 guys turned up. They tore down our flag. We pushed them away from the barricades," says Gerachov, adding that his men were better armed. "They may have had a couple of hunting rifles. We have automatic weapons."
They have made their hardline views known via a
bizarre hip-hop tune posted on YouTube
. The song's rhyming lyrics call for a union of Ukraine, Russia and Belarus. It makes fun of European gay pride parades. The singer is dressed in full paratrooper kit, including helmet. Also visible are a rocket-propelled grenade launcher, two grenades and a Russian flag.
The referendums scheduled for next month may shed light on the Kremlin's plans. The rhetoric from Moscow over the past few days has been ominous. It has accused Kiev's pro-western government of violating the agreement signed in Geneva last week under which illegal groups were supposed to disarm. Russia's foreign minister, Sergei Lavrov, said Moscow may be forced to act – and that was before the call by the Ukrainian president on Tuesday to
relaunch military operations
against pro-Russia militants.
Western officials suggest the following scenario: Russia's acknowledges the 18 May referendum as legitimate. It then recognises the "people's assemblies" in Donetsk and Luhansk as the sovereign ruling government in eastern Ukraine. It refuses to recognise presidential elections due to be held across Ukraine on 25 May. Moscow's goal, the officials say, is for the region to become a feeble political entity under de facto Russian control.
Undoubtedly, some in Luhansk genuinely welcome the prospect of Russia becoming the region's new landlord. "The government in Kiev is illegitimate. They are fascists paid by America," says Larissa Brik, 63, standing in the park opposite the SBU building. Her friend Tamara adds: "Putin is a great leader. He's clever. He's tenacious. We want to live with Russia."
A group of students pose for photographs next to the razor wire. Katya Alexeyavna, 22, says she has been training to be a history teacher. "My grandfather fought in the Red Army. I hate to see the way history is being rewritten. I can't accept the view from western Ukraine that Soviet troops were occupiers." What does she want? 'I'd like to live in a federalised country. I'm not against living in Russia."
Her friend Marina Konstantina, a junior doctor, says Ukraine's 23 years as an independent country have been ignominious, characterised by misgovernment and thieving. But would a Luhansk "people's government" be any different? "The stealing would carry on but on a smaller scale," she replies. The area's core problem, she says, is long-term economic decline – low wages, especially for state employees, and a Soviet legacy of unprofitable heavy industry and mines.
"Things can't get any worse," she says. "That's why we want change."
theguardian.com