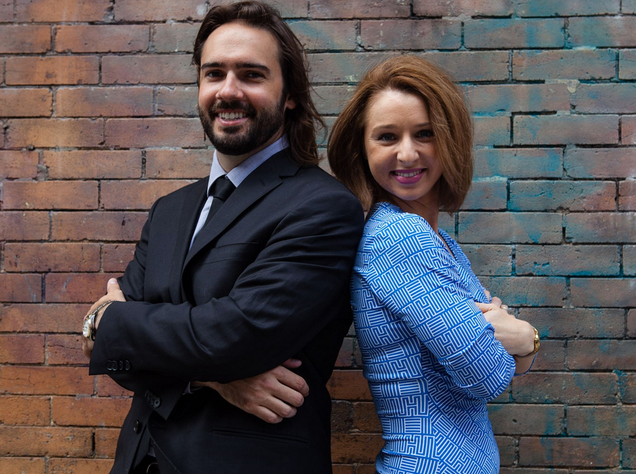 Editor's Note: Two white developer's create an app to help people avoid dangerous neighborhoods when driving in unfamiliar areas, because all dangerous neighborhoods are populated by blacks, Gawker claims that the app's creators are evil racists
Is there any way to keep
white
people
from using computers, before this whole planet is ruined? I ask because the two enterprising white entrepreneurs above just made
yet another
app for avoiding non-white areas of your town—and it's really taking off!
Water is wet, the night is dark, the sugar is sweet, and according to a new internal report, the . . .
Read more
Crain's reports on SketchFactor
, a racist
app
made for avoiding "sketchy" neighborhoods, which is the term young white people use to describe places where they don't feel safe because they watched all five seasons of
The Wire:
SketchFactor, the brainchild of co-founders Allison McGuire and Daniel Herrington, is a Manhattan-based navigation app that crowdsources user experiences along with publicly available data to rate the relative "sketchiness" of certain areas in major cities. The app will launch on the iTunes on Friday, capping off a big week for the startup, which was named as a finalist in the NYC BigApps competition.
According to Ms. McGuire, a Los Angeles native who lives in the West Village, the impetus behind SketchFactor was her experience as a young woman navigating the streets of Washington, D.C., where she worked at a nonprofit. . . .
After meeting Mr. Herrington, an electrical engineer who was taken with the SketchFactor idea, the two quit their Washington D.C.-based jobs and decamped to New York City with funding from family and friends.

As one of the finalists in the BigApps competition, SketchFactor is poised to receive more attention when it launches.
Who we're not: racists, bigots, sexists. Any discriminatory posts will be deleted.
Oh, well in that case. The app launches tomorrow, so it's probably safest to just stay indoors until then.
Source http://praxis-mag.blogspot.co.uk/2014/08/smiling-young-white-people-make-app-for.html