STOCKHOLM.
Student Accommodation at Kista Alléväg has partly been empty after both KTH and Stockholm University last summer decided it was not safe for their students to live there – now Roma Gypsies are breaking in and taking them over.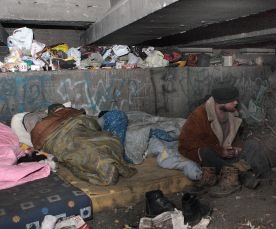 It was this summer that the situation became intolerable for the students at Kista avenue in northern Stockholm.
An illegal traveler camp had turned up just outside.
It's like a fucking carnival all the time, I have to move now

. I did not think it was like this in Sweden, said a Chinese exchange student to
Free Times
, aimed at a Roma gypsie camp and on immigrant riots that took place in the neighborhood in May.
Doug Revolta was an exchange student from the UK and lived in the area
First, we were disturbed only by their presence, but now a lot of us have been really scared. The girls in particular, they do not feel safe anymore, he told
The Local
in conjunction with the school's decision to vacate the accommodation.
Roma are really hated everywhere, 'said one angry Portuguese, for free times.
The travelers spread terror among the residents, stole, made noise and teasing.
I feel insecure and I hope the owner takes action, says student Ding Malin Fors,
The apartments are empty despite record high housing shortage among students in Stockholm and the owner says that it may be time to sell them.