A mayor has come under fire in Spain after letting a government school host a market selling Nazi memorabilia, including swastikas and posters of dictators.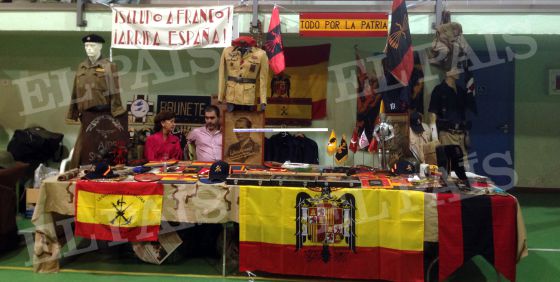 The flea market was held in Princes of Asturias gym on the weekend as part of a military display in Quijorna, on the outskirts of Madrid, local news site
El Pais reports.
The event was organised by a Spanish army veterans group that got permission from the town's mayor and Popular Party leader Meredes Garcia to use the school.
When asked about the offensive items on sale, Ms Garcia said she "hadn't spotted the swastikas or Nazi paraphernalia" when she visited.
But photos taken of stalls show an array of facist memorabilia for sale, including flags of the Nazi and Franco dictatorships, SS Totenkopf skull emblems, pictures of the founder of the Spanish Falange Jose Antonio Primo de Rivera, swastikas and other Nazi and Nationalist symbols.
Ms Garcia also said she was not fully informed about the market, which was free for the public to enter.
Opposition parties have called for the mayor to resign.
"The town hall has made a public space available where, not only Franco-era symbols were for sale, but also Nazi insignia, which in Germany is illegal and constitutes a crime," said the town's only Socialist councilor, Azucena Concejo.
The market organisers said the aim of the event was to "increase love for Spain and its indivisible unity and improve knowledge between military and civil society".