Nazi memorabilia being sold in Dunedin today is attracting nationwide interest.
Pre-1945 German military and Nazi items will be auctioned at Hayward's Auction House. Items include Nazi flags, helmets, belts and pins.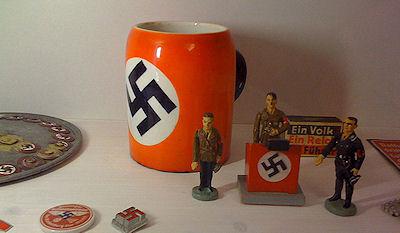 The vendor, who wished to remain anonymous, collected the material over a long period before deciding to sell.
Hayward's co-proprietor Kevin Hayward said apart from a few smaller uniform items, the lot was authentic.
''There will actually be things that veterans brought back from the war,'' he said.
The flags and helmets were expected to each fetch between $500 and $600. Hayward's has previously sold such items, but this collection included the largest amount of Nazi memorabilia it had put to auction at any one time, Mr Hayward said.
About 15 active bidders were expected on the floor, and the same number online.
''You'll find that for the half hour these items are out a lot of people will leave and get a coffee or whatever and come back,'' Mr Hayward said.
He was not concerned about the auction attracting nationalists and white supremacists.
''News may get around to their circle, but for people who are in that movement I think it [items] will be too expensive anyway.''
Hayward's staff appreciated the auction could provoke negative reactions from some people, as did other items sold from time to time, such as stuffed animals, he said.
''The vendor wants it sold.
''We appreciate we need to be sensitive in how we sell and display it,'' Mr Hayward said.
Australasian Union of Jewish Students Dunedin branch president Ben Isaacs said the sale of anything with a swastika was harmful to the memory of those who died as a result of Nazi persecution.
''The decision to run this auction shows a lack of taste and sensitivity to those who lived through these atrocities and their families,'' he said.
''It is a slap in the face to the Dunedin Jewish community and New Zealand Jewish community.
''This is not something that should have a place in New Zealand,'' Mr Isaacs said.
- Sam Carran