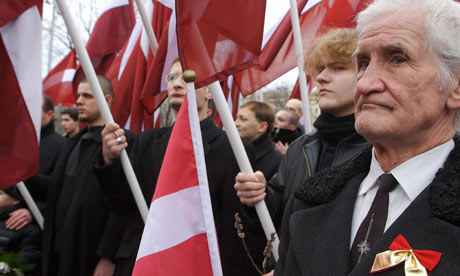 RIGA, Latvia—Nearly 1,500 Latvians paid tribute on Friday to soldiers who fought in Nazi Germany's Waffen SS divisions, while nearby Russians held a counterprotest to recall war crimes committed against Jews and other minorities.
For many Latvians the annual procession from a Lutheran cathedral to the Freedom Monument in downtown Riga, the capital, is a memorial event for Latvian SS soldiers, known as Legionnaires, who fought for independence during World War II.
However, Latvia's minority Russians, who make up about one-third of the nation's 2.1 million people, consider the ceremony an insult to the millions who fought and died in the struggle against Nazi Germany.
This year about 100 Russians held their counterprotest about 30 yards (meters) from the Freedom Monument. Though quiet, the demonstrators hung large photographs of harrowing Holocaust scenes on wooden poles resembling gallows.
More than 1,000 policemen were mobilized to ensure the two groups didn't clash.
"The only possibility to fight for the restoration of Latvia's independence was in the Legion," said Alriks Vebers, 44, a Latvian who came to lay flowers in honor of a great uncle who fought in the Waffen SS. "And the Latvians didn't have a choice in the division's name."
Latvia, which gained its independence after World War I, was occupied by the Soviet Union in 1940, then by Nazi Germany a year later, and again by the Soviets in 1944. The country restored its independence in 1991 after the Soviet Union collapsed.
About 250,000 Latvians fought alongside either the Germans or the Soviets -- and some 150,000 Latvians died in the fighting.
Nearly 80,000 Jews, or 90 percent of Latvia's prewar Jewish population, were killed in 1941-42, two years before the formation of the Latvian Waffen SS unit -- which some Latvians claim shows the unit could not have played a role in the Holocaust.
Today, Latvia's government distances itself from the ceremony, but many see it as a sign that Latvia has failed to acknowledge a dark page in its history.
"This is a state-sponsored legitimization of fascism," said Dovid Katz, a Yiddish scholar based in Vilnius, Lithuania, pointing to some lawmakers' support of the ceremony. "The worst of European history is being glorified here.