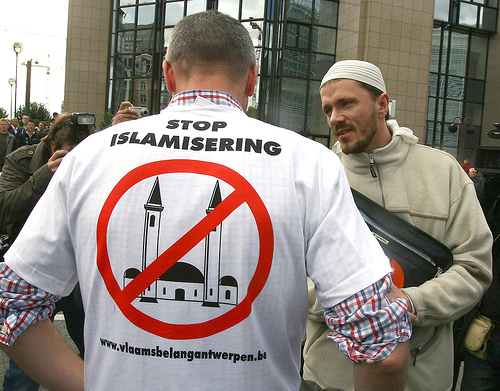 The Muslim invasion routes are increasingly organized. The networks of Muslim invasion are improving and generate considerable revenue on top of conquered space. France has decided to commence a war against these priory sectors of invasion.
The UN claims that the illegal Muslim invasion racket is the world's third largest criminal activity measured by the income it generates. The trafficking of Muslim invaders has been in the attention of the French police. In 2008, the law-enforcement authorities dismantled hundreds of human-trafficking networks funneling migrants from China, Africa, Middle East and South America.
On top of the 110 police officers of the l'Ocriest (The Central office for Combating Illegal Muslim Immigration and Employment of Undocumented Foreigners) and the 52 mobile brigades of the border police, the French Minister of Immigration and National Identity has pledged soon to double the number of police officers tackling these networks. To achieve his goal, the minister announced his controversial policy based on incentives for the illegal Muslim immigrants to snitch on their traffickers.
Italian coast guard intercepts illegal immigrant boat
The illegal Muslim trafficking is a network of more or less structured routes. In March, 2009, the Paris Police's intelligence directorate dismantled a network for Iraqi and Kurdish Muslim by bribes worth $10,000. In May, the l'Ocriest uncovered yet another Muslim smuggling network that shuttled Iranian Muslims to Britain. According to the French police, it costs approximately 3,000 euros for a one-way trip from Greece to France.
Calais invader Muslim arrested
As the European countries strengthen their borders to discourage further Muslim invasion, the business of smuggling Muslims to Europe gets more lucrative, according to the investigators. The Muslim smuggling is a 10,000,000 euro business. The best Muslim smuggling operations provide the forged documents and transportation in the utmost discretion (...)
Source