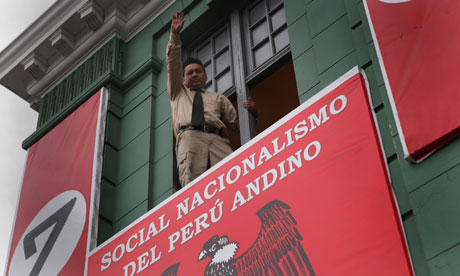 Peru's Jewish community has urged authorities to stop the activities of a nascent neo-Nazi party headed by an anti-Semitic Amerindian.
According to The Guardian, the Jewish community of Peru said in a statement that it rejected the "open expression of anti-Semitic racism" of the Andean Peru National Socialism Movement — a far-right group that is currently attempting to gather enough signatures to be registered as a political party.
Authorities needed to "take the necessary measures to halt the incitement to racial and religious hatred," the statement reportedly said.
The Lima-based La Republica daily reported this month that the group had six members and that its founder, Martín Quispe Mayta, has called for the expulsion of the country's Jewish community.
According to Mayta, the group has 70 volunteer activists. He said he founded the movement after reading Adolf Hitler's book, "Mein Kampf," in his youth, and Henry Ford's "The International Jew."
"Hitler turned against the real enemy, the Jews, who killed millions and who poisoned millions," Mayta is quoted as telling La Republica. He posed for the paper with five other party activists while wearing a Nazi uniform.
Asked about the Holocaust, he reportedly called it "a lie of the Jewish press" and added, "The gas chambers never existed."
Fewer than 5,000 Jews live in the country, according to the Guardian.