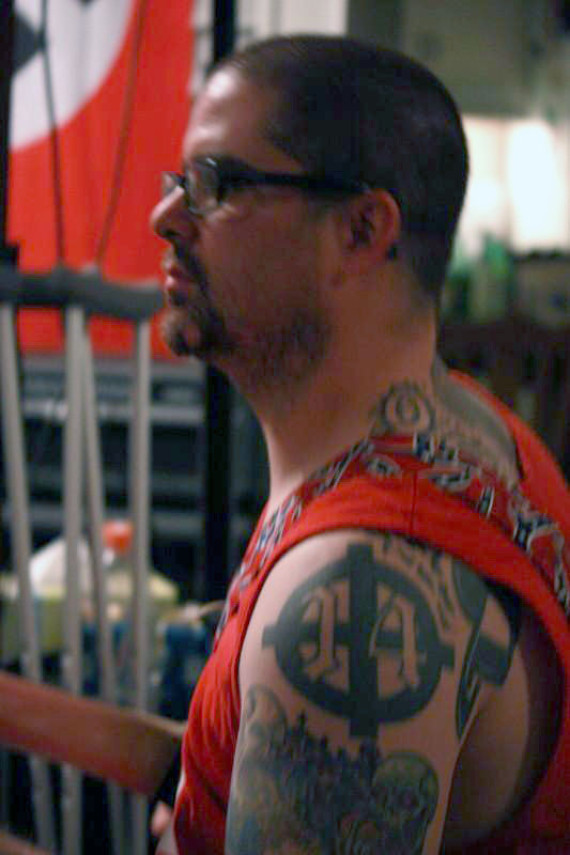 Oak Creek, Wisconsin (CNN)
-- An Army veteran who neighbors say played in a far right punk band was the lone shooter in the rampage at a Sikh temple in Wisconsin that killed six people and wounded four, according to information Monday from law enforcement authorities.
Wade Michael Page, 40, was shot to death by police responding to the Sunday morning attack in the Milwaukee suburb of Oak Creek, the community's chief of police told reporters.
It was the latest violence against the Sikh community in the United States in apparent misdirected revenge for the September 11, 2001, terrorist attacks.
The attacker shot people inside and outside the temple, including a police officer, Oak Creek Police Chief John Edwards said. Another police officer with a rifle then shot the gunman, who died at the scene.
According to Edwards, police have received information that the suspect "may have been involved in" the white supremacist movement, but he added it remains unconfirmed.
Two neighbors of Page identified him in photos that showed him playing in the far-right punk band "End Apathy," and the nephew of the slain president of the Sikh temple said the attacker had a 9/11 tattoo on his arm.
Teresa Carlson, the FBI special agent in charge of the investigation of Sunday's shooting, said no motive for the attack has been established. The FBI was looking into whether it was domestic terrorism, which is the use of violence for political or social gain, Carlson said.
"We are looking at ties to white supremacist groups," Carlson told a news conference, adding there was no active investigation of Page prior to Sunday's attack.
However, police made public the photo of a man who they would like to speak with in connection with the investigation. The man showed up at the crime scene on Sunday and then left before anyone knew who he was or why he was there, Edwards said.
Because of their customary beards and turbans, Sikh men are often confused with Muslims, and they have been the targets of hate crimes since 9/11 terrorist attacks on New York and Washington.
The six victims of Sunday's attack were identified by police as five men -- Sita Singh, 41; Ranjit Singh, 49; Satwant Singh Kaleka, 65; Prakash Singh, 39, and Suveg Singh, 84 -- and one woman, 41-year-old Paramjit Kaur.
Two other Sikh victims remained hospitalized in critical condition, while a third was treated and released, Edwards said.
The wounded police officer, identified as 51-year-old Lt. Brian Murphy, also was in critical condition, the police chief said. Earlier, Edwards said that Murphy's injuries did not appear to be life-threatening.
Page, born on Veterans Day in 1971, joined the Army in 1992 and left the service in 1998, said information from Army Spokesman George Wright. His service was marked by "patterns of misconduct," though he recieved an honorable discharge, according to a Pentagon official.
Bernard Zapor, the Bureau of Alcohol, Tobacco, Firearms and Explosives special agent in the investigation, said Monday that the 9 mm semiautomatic handgun with multiple ammunition magazines used by the attacker had been legally purchased.
The suspect did have a criminal record, Edwards said. A background check showed Page had separate convictions for DUI in Colorado in 1999 and for criminal mischief in Texas in 1994.
Edwards said the attacker shot people inside and outside the temple, including a police officer, before another police officer shot him.
"They gave the individual commands. He didn't respond to those," Edwards said. "He shot some of the (squad cars), damaging them, and he was at that time shot at by one of our officers with a rifle."
Asked about the officer shot in the attack, Edwards said that "it was very close range."
"He was tending to someone down in a crouch position, what it appears," the police chief said. "And the individual walked up on him, around a vehicle and engaged him very closely - inches to feet, and fired at him. He was shot between eight and nine times."
One of the dead, Prakash Singh, was a priest who recently immigrated to the United States with his wife and two young children, said Justice Singh Khalsa, a temple member since the 1990s.
Relatives of Kaleka, the president of the temple in Oak Creek, Wisconsin, said Monday that he was killed fighting the attacker.
"From what we understand, he basically fought to the very end and suffered gunshot wounds while trying to take down the gunman," said Kanwardeep Singh Kaleka, his nephew.
"He was a protector of his own people, just an incredible individual who showed his love and passion for our people, our faith, to the end," the nephew said, near tears. "He was definitely one of the most dedicated individuals I have ever seen, one of the happiest people in the world."
Kaleka said those inside the gurdwara, or Sikh house of worship, described the attacker as a bald white man, dressed in a white T-shirt and black pants and with the 9/11 tattoo on one arm -- which "implies to me that there's some level of hate crime there."
While officials try to piece together what prompted the man to go on his shooting spree shortly before the main Sunday morning service, America's Sikh community struggled to come to grips Monday with the brutal attack.
A Sikh human rights group said Monday it would give a $10,000 reward to Murphy, the police officer wounded in the attack.
"Our government must take urgent steps to educate the country about the Sikh population and help put an end to these horrific and deadly acts of violence," said a statement by the group, Sikhs for Justice.
Kaleka was horrified to have such violence occur at his place of worship, especially just two weeks after the 12 killings at a screening of the Batman movie "The Dark Knight Rises" in Aurora, Colorado.
"You're talking about Aurora one minute, and the next minute it's you and your family," Kaleka said.
"I just never thought it would be at a temple, at a place of worship. I don't want people to have to carry a gun at a place of worship," said Kaleka, who added that he could have been at the temple during the attack, but for the fact he had stopped at a bank "randomly to make a deposit."
"Why can't people just show each other love and care and treat each other as humans?" he asked.
Khalsa said late Sunday that the attacker was "probably somebody not in their right mind."
"It's possibly a hate crime, somebody not understanding the religion," Khalsa said.
Meanwhile in India, the birthplace of Sikhism, Prime Minister Manmohan Singh said he was "shocked and saddened" by the shooting.
"That this senseless act of violence should be targeted at a place of religious worship is particularly painful," Singh, himself a Sikh, said Monday. "India stands in solidarity with all the peace-loving Americans who have condemned this violence."
The country's main Sikh political party, the Shiromani Akali Dal, held a demonstration in New Delhi's embassy district Monday to protest.
"Stop racial attacks on Sikhs," read one of the placards.
In an act of solidarity, U.S. Ambassador Nancy Powell visited a historic Sikh shrine in New Delhi, embassy spokesman Unni Menon said.
Sunday's attack occurred about 10:30 a.m., when temple members were reading scriptures and cooking food in preparation for the main Sunday service and community lunch. The temple has more than 350 members.
According to witnesses
, the gunman started shooting in the parking lot, killing at least one person. He then entered the temple and continued firing, they said.
Women who were in the kitchen preparing meals for the congregants "were fortunate enough to basically duck down and dodge" the bullets, said Kanwardeep Singh Kaleka, the temple member.
Some ran to safety outside, others sought refuge in the temple's basement, while many huddled together tightly in the pantry.
It took several more hours for authorities to thoroughly sweep the building and the surrounding area, checking for clues and signs of additional gunmen, as some witnesses had suspected.
Police spent Sunday night searching the shooter's home in nearby Cudahy, a short distance from the temple.
Political leaders offered condolences for the killings, which were certain to further incite debate on gun control in America so soon after the Colorado massacre.
President Barack Obama said the United States had been "enriched" by Sikhs, and that his administration "will provide whatever support is necessary to the officials who are responding to this tragic shooting and moving forward with an investigation."
Certain Republican presidential nominee Mitt Romney called the slayings "a senseless act of violence and a tragedy that should never befall any house of worship."
The Sikh religion originated in northern India around 1500 and has about 25 million followers.
The United States is home to about 700,000 Sikhs, nearly all of Indian origin, according to the Sikh American Legal Defense and Education Fund. The men are easily identifiable by their beards and turbans, a tradition that's lasted for 500 years.
The first person murdered in retaliation for the 9/11 attacks was a Sikh --
Balbir Singh Sodhi
, a gas station owner in Mesa, Arizona. He was shot five times by aircraft mechanic Frank Roque on September 15, 2001. Roque is serving a life sentence.