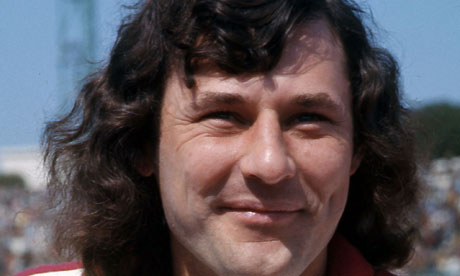 Special "safe zones" are to be set up for England football fans attending the
Euro 2012
championships in
Poland
and
Ukraine
amid concern about the threat of attacks by racists and far-right nationalists.
The decision by the Football Association and England's sponsor Vauxhall to provide "England only" areas in Kiev and Donetsk in Ukraine, where England will play their Group D matches, has been welcomed by anti-fascist groups which have voiced particular fears for the safety of black and Asian England fans.
The
Observer
has learned that facilities are being hired in both cities so that the estimated 3,000 England fans can congregate safely and get advice from both FA officials and British police travelling to the championship.
Only registered England fans will be admitted to the areas, meaning there will be no access for fans from the host nations. While an FA spokesman said the facilities were there to assist fans during their stay, sources said the decision reflected anxiety among British police that England fans could run into trouble if they were left to roam the cities on their own.
Concern has grown after a BBC
Panorama
programme, broadcast on Monday, showed shocking footage of racist and antisemitic incidents at recent Polish and Ukrainian football grounds. In Ukraine, in particular, the police and stadium officials seemed reluctant to intervene.
It is understood that the "safe zones" for England fans will be sited in social clubs with bars where supporters can drink alcohol – consumption of which is banned in public places in Ukraine – use the internet and mix with British police and FA officials who will be on hand to give advice.
Nick Lowles, a leading anti-fascist campaigner and author of a report into racism and antisemitism in the two countries, welcomed the move as a sign of co-operation between English fans, police and
the FA
. But he remained concerned about England fans, particularly those visiting Ukraine.
"There will be far fewer travelling supporters in Ukraine, meaning it is going to be easier for locals to get tickets. The presence of England will attract local hooligan groups.
"My main concern, however, is away from the stadiums, away from the mass ranks of the police and cameras, for small groups of England fans, particularly black and Asian fans," said Lowles, who heads the
Hope not Hate campaign
.
The England team will travel to Poland on Wednesday – and then on Friday visit the former Auschwitz Nazi concentration camp. The families of two black players, Theo Walcott and Alex Oxlade-Chamberlain, have said they are unlikely to travel to the championships because of fears of racial abuse.
Lowles's report says there will be 31 anti-racist monitors at the tournament with two present at every game. Thousands of stewards have also been specially trained by the Poland-based anti-fascist organisation Never Again, to deal with racism.
But the report says racism is commonplace. At a Europa League game in September, fans of Legia Warsaw, arguably the most racist and antisemitic of any in Poland, displayed a jihad banner behind the goal in an anti-Jewish demonstration against their Israeli opponents Hapoel Tel Aviv.
A couple of weeks later the same fans chanted "Hamas, Hamas, Jews off to the gas" to fans from Lodz, a city whose population was a third Jewish before the second world war. Lowles says it is not just the supporters who are prone to nationalism. Jan Tomaszewski, a former Polish goalkeeper, said last August he was ashamed of the current Polish team which was made up of players who were not "true Poles". Tomaszewski, now an MP for the rightwing Law and Justice party, said: "This hotchpotch lacks only a cannibal from Africa, who once ate a Polish missionary. This is not a Polish team. There are Colombian and German stray dogs."
Hugh Robertson, the sports minister, said: "An enormous amount of preparation has been done by both the FA and the police. The advice to fans remains to take care, read the advice on the Foreign Office website and stick to it. Thereafter we would encourage people to travel and support the England team."
source:guardian.co.uk