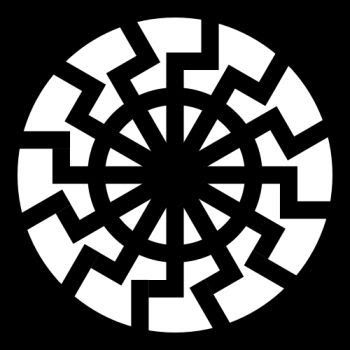 "The occult war, as defined by J. Evola, is the war which the forces of global subversion wage behind the scenes, by means which are almost always invisible to ordinary methods of investigation. The notion of occult war belongs, so to speak, to a three-dimensional vision of history, in which history is not considered superficially, according to two dimensions, those of the apparent causes, events, and leaders, but in depth, according to its third, underground,
> dimension, which contains decisive forces and influences often irreducible to the simple human element, be it individual or collective."
>
> Without a clear consciousness of this, no matter how determined one is to fight subversion, one is bound to be the loser before one has even started. Léon de Poncins (1897-1976) devoted more than 25 books to studying what went on behind the scenes of the political and revolutionary upheavals of the twentieth century. Some of them have been republished over the past few years by the French publisher Saint Remi ('Le Judaisme et le Vatican. Une tentative de subversion spirituelle' can be found at
http://vho.org/aaargh/fran/livres7/PONCINSVati.pdf
; 'La Mystérieuse Internationale juive' at
http://www.vho.org/aaargh/fran/livres9/PONCINSinter.pdf
) Last time de Poncins was mentioned on this forum, there was not much information available either on his work or on him online, but things have changed, and it turns out that some of his books were actually translated into English as early as in the 1930's, including 'The Problem with the Jews at the [Vatican II] Council'(
http://vho.org/aaargh/fran/livres8/DePoncinsProblem.pdf
). Also, 'The Secret Powers Behind Revolution: Freemasonry and Judaism' was republished by Kessinger two years ago. "Occultism has more important repercussions than one thinks. A wave of occultism preceded and accompanied the two great revolutionary movements of 1789 and 1917. The Theosophists and Illumines of the eighteenth century, Jacob Boehme, Emmanuel Swedenborg, Martinez de Pasqualis, Cagliostro, the Comte de Saint-Germain, etc., had their counterparts in the numerous Russian sects and in the magi and occultists of the Imperial court, Philippe, Papus, the Tibetan Badvaev, and above all Rasputin, whose extraordinary influence contributed directly to the unchaining of the revolution (quoted in 'The Trail of the Serpent'(
http://books.google.co.uk/books?id=N4bbMQRtdSYC&pg=PP1&dq=%22the+trail+of+the+s
\erpent%22&ei=_3uySqm1D5TkMLr5rPwF#v=onepage&q=&f=false). Those who have not read, along those lines, 'The Occult in Russian and Soviet culture' may want to have a look at an edifying article called 'Occult Roots of the Russian Revolution' (
http://www.gnostics.com/newdawn-1.html/
)
>
> "Dissident Christian mystics, spiritualists, occultists and radical socialists often found themselves together at the forefront of political movements for social justice, worker's rights, free love and the emancipation of women. Nineteenth century occultists and socialists even used the same language in calling for a new age of universal brotherhood, justice and peace. They all shared a charismatic vision of what the future could be – a radical alternative to the oppressive old political, social, economic and religious power structures."
>
> What's more, "The birth of radical socialist ideas in Russia cannot be easily separated from the spiritual communism practiced by diverse Russian sects. For centuries folk myths nourished a widespread belief in the possibility of an earthly communist paradise united by fraternal love, where justice, truth and equality prevailed. One prominent Russian legend told of the lost land of Belovode (the Kingdom of the White Waters), said to be "across the water" and inhabited by Russian Old Believer mystics. In Belovode, spiritual life reigned supreme, and all went barefoot sharing the fruits of the land and their labour. There were no oppressive rules, crime, and war. Another Russian legend concerned Kitezh, the radiant city beneath the lake. Kitezh will only rise from the waters and appear again when Russia returns to the true Christ and is once more worthy to see it and its priceless treasures. Early in the twentieth century such myths captured the popular imagination and were associated with the hopes of revolution."
>
> The following paragraphs should be read closely and pondered over: "Religious sectarians played a significant part in the formation of Bolshevism, V.I. Lenin's unique brand of revolutionary Marxism. Indeed, Marxism with its aggressive commitment to atheism and scientific materialism, scorned all religion as "the opium of the people." Yet this did not prevent some Bolshevic leaders from utilising concepts taken directly from occultism and radical
> Gnosticism. Nor did the obvious materialist outlook of Communism, as Bolshevism became known, stop Russia's spiritual underground from giving valuable patronage to Lenin's revolutionary cause.
>
> One of Vladimir Lenin's early supporters was the radical Russian journalist V. A. Posse, who edited a Marxist journal Zhizn' (Life) from Geneva. Zhizn' aimed to enlist the support of Russia's burgeoning dissident religious communities in the fight to overthrow the tsarist autocracy. Posse's publishing enterprise received the backing of V.D. Bonch-Bruevich, a Marxist revolutionary and
> importantly a specialist on Russian Gnostic sects. Through Bonch-Bruevich's connections to the spiritual underground of Old Believers and Gnostics, Posse secured important financial help for Zhizn'.
>
> The goal of Zhizn' was to reach a broad peasant and proletarian audience of readers that would some day constitute a popular front against the hated Russian government. Lenin soon began contributing articles to Zhizn'. To Posse, Lenin appeared like some kind of mystic sectarian, a Gnostic radical, whose asceticism was exceeded only by his self-confidence. Both Bonch-Bruevich and Posse were impressed by Lenin's zeal to build an effective revolutionary party. Lenin
> disdained religion and showed little interest in the 'religious' orientation of Zhizn'. The Russian Marxist thinker Plekhanov, one of Lenin's early mentors, openly expressed his hostility to the journal's 'religious' bent. He wrote to Lenin complaining that Zhizn', "on almost every page talks about Christ and religion. In public I shall call it an organ of Christian socialism."
>
> The Zhizn' publishing enterprise came to an end in 1902 and its operations were effectively transferred into Lenin's hands. This led to the organisation in 1903-1904 of the very first Bolshevic publishing house by Bonch-Bruevich and Lenin. Both men viewed the Russian sectarians as valuable revolutionary allies. As one scholar notes, "Russian religious dissent appealed to Bolshevism even before that movement had acquired a name."
>
> (...)
>
> "Lenin wedded the dialectical materialism of Marx to the deep-rooted tradition of Russian socialism permeated as it was by Gnostic, apocalyptic, and messianic elements. In the same manner he reconciled the Marxist commitment to science, atheism and technological progress with the Russian ideas of justice, truth and self-sacrifice for the collective. Similarly the leader of Bolshevism merged the Marxist call for proletarian internationalism and world revolution with the centuries old notion of Russia's great mission as the harbinger of universal brotherhood. Violently opposed to all religion, atheistic Bolshevism drew much from the spiritual underground, becoming in the words of one of Lenin's comrades, "the most religious of all religions."
>
> "Nonetheless we have studied Marxism a bit," wrote Lenin, "we have studied how and when opposites can and must be combined. The main thing is: in our revolution… we have in practice repeatedly combined opposites." Several centuries earlier the Muslim Gnostic teacher Jalalladin Rumi pointed out, "It is necessary to note that opposite things work together even though nominally opposed.""