The French Senate is expected to vote Monday on controversial legislation that would criminalize any public denial of what the bill calls the Armenian genocide in Ottoman Turkey last century.
Turkey has expressed anger over the bill -- passed last month by the French National Assembly, the lower house of Parliament -- and relations between the two governments have deteriorated over the matter.
The Republic of Armenia has hailed the French move.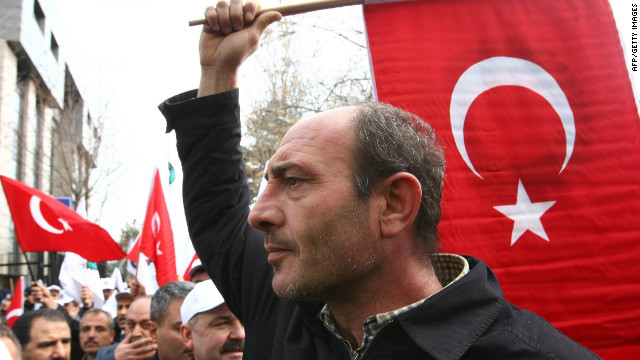 It is already illegal in France to deny the Holocaust of World War II, a crime punishable by a year in prison and a fine of 45,000 euros ($58,500). The same punishment would be used under the Armenian legislation.
If the Senate, the upper house of Parliament, ratifies the bill, ties between Turkey and France could unravel further.
The day after the National Assembly approved the bill in December, Prime Minister Recep Tayyip Erdogan of Turkey accused France of committing its own "genocide" during the war in Algeria in the 1950s and 1960s.
"In Algeria, an estimated 15 percent of the population had been subjected to the massacre of French from 1945 on. This is genocide," Erdogan said at a conference in Istanbul.
"Algerians were burnt en masse in ovens. They were martyred mercilessly. If French President Mr. (Nicolas) Sarkozy does not know about this genocide, he should ask his father, Paul Sarkozy. His father Paul Sarkozy served as a soldier in the French legion in Algeria in 1940s."
Once under French colonial rule, guerrillas in the North African nation fought a bloody war against the French presence there from 1954 to 1962.
The French Foreign Ministry shot back at Erdogan's comments, saying, "we deplore excessive use of formulas and personal attacks that do not meet up to the standards of our mutual interest and of our relations. France recalls that it assumes with clarity and transparency its duty to remember the tragedies that have marked its history."
Immediately after the National Assembly vote, Erdogan announced that Turkey was reviewing its ties with France.
He said Turkey was recalling its Paris ambassador to Ankara for consultations, was canceling bilateral visits, and wouldn't cooperate with France in joint projects within the European Union.
It also planned to halt "political consultations" with France, stopping bilateral military activities and joint exercises, and canceling permission granted annually for all military overflights, landings and take-offs.
Erdogan said he hoped the Senate would fail to pass the so-called Armenian genocide bill. But he warned that if it did, Turkey would initiate more measures toward France.
The Turkish-Armenian controversy over the killings that took place last century has reverberated wherever diaspora communities representing both groups exist.
Armenian groups and many scholars argue that Turks committed genocide starting in 1915, when more than a million ethnic Armenians were massacred in the waning days of the Ottoman Empire.
But modern-day Turkey officially denies that a genocide took place, saying hundreds of thousands of Armenian Christians and Turkish Muslims died in intercommunal violence around the bloody battlefields of World War I.
Sarkozy has said that his country doesn't need an OK from another nation to develop its policies.
Saying that 5 million Muslims live in France, Erdogan noted the "dangerous dimensions that racism, discrimination and animosity against Muslims reached in France and Europe."
Turkey and France are NATO allies, and, according to official Turkish statistics, the volume of trade between the two from January to the end of October this year was more than $13.5 billion.
The genocide debate is also a source of tension between Turkey and the United States, another NATO ally. The White House, for example, annually beats back efforts in Congress to pass a resolution that would formally recognize the 1915 massacre of Armenians as genocide.