A CONTROVERSIAL neo-Nazi music festival will be held in Brisbane this year, drawing white supremacists from around the world.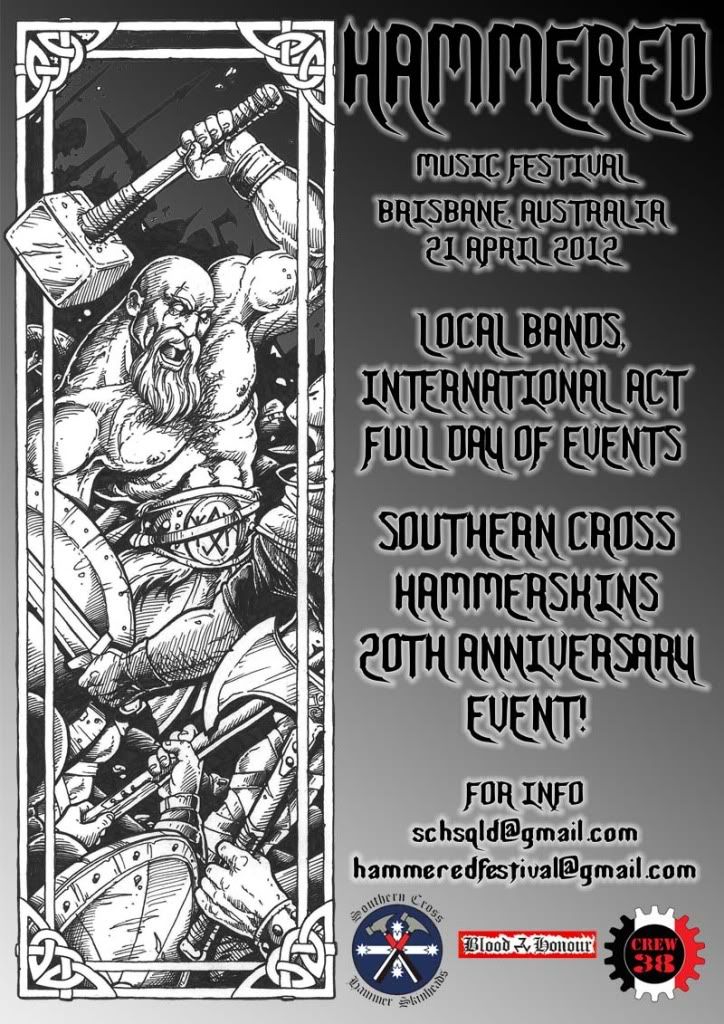 The
controversial Hammered Music Festival, already being advertised through

white

pride websites, will take place in a secret Brisbane location in April and feature race hate music from international and local bands.
The

white

pride ga

the

ring attracted protests and nationwide criticism last year when it was held on

the

Gold Coast, and a range of groups have already spoken out against

the

event.
Federal Race Discrimination Commissioner Dr Helen Szoke this week slammed

the

white

pride festival as "abhorrent to our community", and said offended parties could complain under

the

Racial Discrimination Act.
"

The

the

me of this music festival goes against Australia's multicultural values," Dr Szoke said.
Federation of Ethnic Communities' Councils of Australia chairman Pino Migliorino said

the

festival was

the

work of a "lunatic fringe" and he was concerned
about
the

underlying message of

the

festival.
"It's an appalling set of beliefs that

the

y have," he said.
"

The

reality is a great majority of Australians are not racist and are comfortable with cultural and linguistic diversity."
The

event is being organised by

the

Sou

the

rn Cross Hammerskins,

the

Australian arm of a worldwide group.
Ano

the

r organiser, Blood and Honour, was banned in Germany in 2000 after a number of foreigners were attacked by neo-nazis inspired by music at

the

group's events.
But Queensland Police Service and

the

Brisbane City Council have said

the

groups can legally hold

the

event.
A QPS spokesman said as long as

the

groups and

the

festival-goers abided by

the

law,

the

police would not become involved.
"Police are aware of

the

festival in question. However, until such a time that a law is broken or a complaint is made, it is not a police issue," he said.
Deputy Mayor Adrian Schrinner said

the

Gold Coast City Council reported no problems when

the

event was held

the

re, and

the

group had

the

same rights as any o

the

r organisation.